These days, it is imperative to have a small business website. But, simply having a website is not enough- you have to carefully design your site and maintain it regularly in order for it to be effective in gaining the attention and business of your target audience.
According to recent research from BestSEOCompanies.com the top characteristics of a great business website are as follows,
Easy to use menu
Quick page load speed
Easy site navigation
Easy to read fonts
Secure connection
High quality photos
Clean and simple design
Good mobile functionality
Interesting resources and topics
Beautiful images
Over the next few weeks we will discuss all of these in detail. This week, lets talk about the benefits of an easy to use menu.
Small Business Website Series - Easy to Use Menu
Every website has a menu. Well, every website should have a menu. But some leave a lot to be desired.
Your small business website navigation menu is critical to success in digital marketing. It's one of the primary elements on your website because it affects and produces  the most important outcomes:
"What We Do" doesn't actually say what you do. Neither does "Products," "Services" or "About." Descriptive navigation that uses keyphrases is better for two reasons: 
Search Engine Optimizaton (SEO)
User Interface / User Experience (UI/UX)
I have never met anyone that has simply typed "products" into a Google search bar. Nor have I ever seen anyone search for "about us". The point is, these labels don't help your rankings. The navigation bar is a fundamental point to indicate importance to search engines. Your navigation menu appears in your header section on every page giving those links special importance.
Use your main navigation as a place to inform people and search engines about what you offer. Your navigation bar is on every page; sometimes twice if you have a footer menu. Everybody sees it. So it should communicate instantly what your brand actually does. When it lists the names of your main products or services, it will be clear, in an instance, what your company produces. Your visitors will know that they're in the right place.
Compare the difference in the two fake nav menus. The first example is commonplace. Honestly, remove the words "Sports Company" and the logo it could be "Any Company U.S.A.". The second example is precise. Any visitor, or Google Bot, can tell quickly what services the company provides.


Pages with generic labels are at an SEO disadvantage. If you have one page listing everything that you do, it will never rank. That page wouldn't be focusing on a specific topic. Each page on your small business website has a chance of ranking, provided it is focused on a topic, and a keyphrase.
If you're not sure what twords or phrases to use, plug some ideas into Google Trends. It will show you the popularity of any search terms over time. It can also provide differences based on geographics. It's an easy way to use keyphrase research to guide your decision making.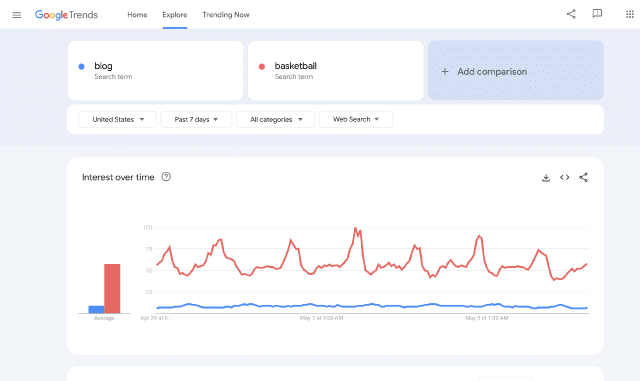 This is why your website construction, not just the navigation, is key for Search Engine Optimization. An optimized small business website has a page for each service, each product and each topic. Avoid making a general "services" page unless there are also other, search optimized pages for each particular service.
Above all, it's good UI/UX design for users.
Descriptive labels help the user envision what they'll get when the click. They guide the visitor to the deeper, more specific pages. The deeper, more specific pages drive the user to conversions. Conversions are why your business has a website. Make it easy for users to get around.
If you have any questions regarding your own website, contact us today. We are in this business for small businesses. We are here to help.